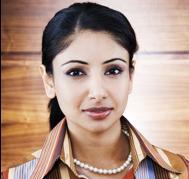 Interim Human Resources Manager for Kool Software Company
29 years old, single
Has a degree with a dual major in Business Administration and Computer Science
Works in Silicon Valley
Originally from India; moved to US to go to school; the rest of her family are still in India
Worked as a recruiter for previous company; moved into generalist position at Kool and then was promoted to interim manager when her predecessor went to another company
"Kool is THE cool place to work for new grads in IT."
Kool is a 200-person software company making middleware. It's made the jump from start-up but still has immature systems. Two years ago they opened a development arm in India. Now that they are not dealing with just early adopters, upper management is beginning to realize they need to improve their user documentation, which they have been outsourcing to a local technical writing firm. Sudha is ambitious and wants to prove that she should get the manager position as a permanent move and not just until they hire someone else.
Key Attributes
Works long hours in a company where that is expected
Loves the fact that her job means that her company pays for once-a-year trips to their Indian operations, which allows her to take a few days off to see her family while she's there
Is very technologically savvy
Tasks
Is responsible for all HR activities in this 200-person company
Supervises two generalists who handles more routine issues, including one in India
Does recruiting for the most important US positions
Works with outsource recruiters for some positions, including one in India for their Indian branch
Approves/recommends compensation for new hires as well as raises
Also works with managers on difficult personnel issues
Informational Needs/Goals
Wants to know more about technical communication so that she can figure out what to look for in hiring someone to manage the user documentation and where she might find them.
Wants to know the range of compensation for technical writers in Silicon Valley and India
Scenario of Use: Sudha Gupta

Scenario 1: Her boss asks her to look into hiring a manager to handle the user documentation for their products.
Scenario 2: Six months after she hires a Tech Comm manager, the manager asks her to help recruit writers, and she wants to find out about compensation for technical writers.