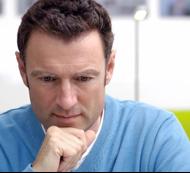 Manager of European Packaging and Translations, XYZ Inc.
52 years old, married, three children
Has a degree in electrical engineering and an MBA
Originally from the Netherlands
Lived in the U.S. while working on MBA
Worked briefly at two other companies before XYZ
Has been managing translations for this $2 billion/year company for 15 years
Works in the Netherlands, in charge of a department responsible for localizing products for Europe, Africa, and Middle East 
" We need to think of the preparation of products for markets outside the U.S. the way we would think of setting up a new manufacturing process or line."
XYZ company is currently translating its user information into FIGS (French, Italian, German, and Spanish), and adding paper manuals to packages. The sales group wants to expand into the potentially lucrative Eastern European market, especially Russia.
Maarten's boss, the VP of European operations, is afraid the additional translations will add too much to the cost of the product, and mean that he needs to either inventory multiple configurations of the product or invest in potentially expensive new packaging. He tasks Maarten with finding ways to reduce the cost of translations.
Maarten wants the writers of the English source to reduce the size of the manuals and quit making unnecessary stylistic changes, but they report up through a different management chain in R&D, whereas Maarten reports through European operations.
Key Attributes
Has been trained in Six Sigma methodology and focuses a lot on process
Is an engineer managing people trained primarily in the humanities
Took on translations as a logical adjunct to his packaging responsibilities
Recently attended LISA (Localization Industry Standards Association) conference, and is thinking of becoming a permanent member of LISA or TAUS
Tasks
Manages group of 8 translator/project managers and 4 packaging engineers
Oversees vendor selection
Manages budget
Plans processes and tools
Informational Needs/Goals
Wants to know how other companies have handled English source to help translations
Has sales literature from content management vendor that mentions translation memory but didn't explain how it worked; wants more information on that.
Scenario of Use: Maarten van Gelten
While reviewing LISA's website, Maarten notices an annotated link to the Society for Technical Communication. The annotations explain that STC is an organization for technical communicators, who produce source documents that are often translated. Remembering that he wants to make arguments to the VP of the group that writes the user materials, Maarten thinks maybe he'd find some insights here. He clicks to the STC site and notices the knowledge portal, so he clicks on it.
Maarten glances over the main headings. He notes the one on standards and thinks he might want to look at that at some point. Based on the main headings he decides to look at management. As he glances through the subheadings, he doesn't see much that looks very promising.
Maarten types the word "translation" into the search box. This is more like it. He notes a number of topics that might be of interest, including Controlled English, content management systems, and ambiguity checkers. He heard about Controlled English in a LISA presentation, and so he glances through the list of articles about it in the STC portal. He can see the list, but when he tries to click, he gets a notice saying these are available to STC members and asking if he wants to become one. Maarten decides to find out if someone else in his company is already a member.
Of special interest is a link titled Writing for Translation. Maarten is very excited that some companies have already done what he wants his to do. Some of the articles even list company names. He jots down those he has heard of, including one that has the name of the Director of Information Development.
On the Writing for Translation page, Maarten finds a link to Minimalism, which sounds like exactly what he needs. He feels he has some good ideas to bring up to the VP of Development.
During his next trip to the U.S., Maarten meets with the VP of Development and the Manager of Information Services about changes necessary to prepare to expand in Europe. Maarten explains the trend in translation costs and what he projects they will be as they add new languages unless something is done. He recommends that he and the manager of the writers work together on a business case for a content management system, and that they do a benchmarking phone call with the company whose name he's written down. He also asks if the technical writers are already members of STC, saying that he found a lot of good information on the STC Knowledge Portal. A few of the writers already are members, but the Manager of Information Services is not. Maarten convinces the manager to join STC, in part to get access to the additional information available only to STC members.