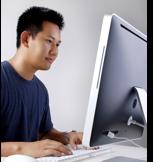 Senior in College, Tech Comm Major, Looking for Jobs
22 years old, single
Will receive a Bachelor's degree in tech comm from a respected program with a minor in international business
Student member of STC
Proficient in speaking Chinese and Spanish in addition to English 
"The greatest job in the world would be one where I can travel around, living in different places, and using my tech comm skills. I don't care so much what kind of company it is, so long as it has strong international opportunities."
Jimmy is a senior in college, a technical communication major looking for his first full-time employment. He's open to taking any job that uses his skills and meets his salary requirements, but he really would like to find something that captures his interest and starts him on the path for his career.
Ever since he was a youngster moving around the world with his Air Force family, Jimmy has wanted to work abroad. He loves living in new places and learning how other people live, work, and play. The idea of starting to work for one company in the US and staying there his whole life sounds deadly dull to him. He's had an internship in business and one in technical communication, and he knows he wants to put his TC skills to work in an international company of some kind.
Key Attributes
Strong language skills and cultural awareness
Prepared for entry level business jobs, but hopes to use his tech comm skills most
Not afraid to move around the world and start new ventures
Adapts easily to any social situation and enjoys working in groups
Tasks
Uses Adobe Creative Suite to design résumés, menus, and brochures for a local print shop, charging them $50 an hour but often working more hours on a project than he charges
Does freelance website design and content development using Dreamweaver
Teaching himself Flash, as time permits, but hasn't gone far with it
Reads books on business best practices, both for class and for pleasure
Informational Needs/Goals
Wants practitioner stories about how technical communication skills fit into the international business world
Investigate how his language speaking skills can be employed somehow other than sitting at a desk doing translations (which he does not feel proficient enough to do)
Needs to find a way to narrow his job goals down to begin a strategic search
Would like to find a mentor in STC who would be willing to chat and share stories
Must find out specifics of what to do to prepare to work abroad (visas, etc.)
Scenario of Use: Jimmy Chin
Jimmy is familiar with STC and naturally turns there first to seek information.
First he looks around the site for any information about international business. The Google search on the site produces over 50 hits, but they are most presentation materials from conference proceedings. He wonders if he needs to use different search terms.
He locates the SIG groups after mousing over the whole group of drop-down menus. He sees a link to "Canadian Issues" and "Europe," but nothing specific about international business. He explores these sites briefly and then spots the International Communication SIG at http://www.stcsig.org/itc/
He looks around the ITC site to see if he can find someone to chat with about his career plans. He'll start by emailing a few of them to see what kind of response he gets.
Jimmy Chin is a perfect candidate for an interactive element of the TCKP that allows him to find his mentor or mentors within STC. E-mailing members of the ITC SIG is a message-in-a-bottle approach: he can only hope that someone will find his message and respond to him. He might be more encouraged by being able to post a query to the entire STC membership on the TCKP site, in addition to directly querying members of the ITC SIG; however, he needs to know which members of the SIG to ask, which means he needs a way of getting information on the interests and areas of expertise of all the SIG's members.