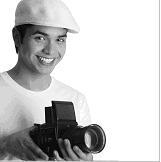 Junior in High School Interested in Web Design
17 years old
Has taken all the technology and computer courses available
Has designed the school's Web site and sites for Athletics and for the student government
Has always been first in his group to use the latest media and technical products
Member of the Future Business Leaders and Art Club
"I'd love to major in something in college that will let me do this fun stuff, make a decent salary, and become a real Web design expert."
Eric has become something of a local legend in Web site design. He taught himself HTML, Dreamweaver, and Photoshop. He has heard there are degrees out there for people who love what he does—he just has no idea where to look! His high school technology teacher happened to mention that he graduated from a technical communication program in the state. He recommended that Eric go to the STC website and look around to find out about schools and degree options.
Key Attributes
Strong sense of artistic design, color, flair
Loves to learn new tools and tricks and spends hours on the Web
Willing to invest the hours in design and testing to be sure he is proud of his product
Wants to earn good money, but job satisfaction is most important
Tasks
Studies tutorials, books, and samples to master Web design tools and techniques
Comes up with a theme for a Web site after talking with people who belong to that club, organization, or administrative group
Enjoys showing his work to others and teaching them how to do some of the tasks
Informational Needs/Goals
Wants to understand all the different career paths that Web designers can take
Seeks authoritative voice from experienced person/group whom he can trust
Needs to be able to research online before talking with experts
Scenario of Use: Eric Hernandez
Eric goes to Google to search for Web designer. One of the sponsored links is to STC.org. He goes to the STC BOK and looks around to see what kinds of jobs are available. He thinks, "Wow–look at the broad range of companies, products, and job titles! I want to find a college offering one of these degrees."
He clicks on the Academic Program Database and finds six potential schools. His will look at each school's information and select three or four to visit. He really wants to find out where their graduates are working, what salary they are earning, and whether they enjoy their jobs.
Returning to the STC home page, Eric mouses around to find salary information.
He stumbles upon the SIGs after searching for "Web design." He's intrigued to see that there's a group of people like him. He also sees a note that student members get to join unlimited SIGs, plus getting Intercom, etc. He decides to see whether he could join.
Eric may not find the TCKP exciting enough to pursue membership without some guidance and mentoring from a teacher or existing member. His technology teacher rather passively steered him toward the idea of a profession in TC; others in Eric's situation may have even more passive teachers. It might help draw someone like Eric into the fold if he could also interact with one of the SIGs on a temporary, experimental, game-like basis. This would require active participation from various SIGs. It would also help to link Eric with other high-schoolers like him. His participation could also help bring excitement and knowledge to the TCKP because he has a curious mind and has experience in self-teaching; he may benefit others like him by being able to share tips and tricks he has discovered.