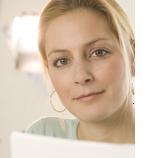 Senior Technical Writer, Meingold International
44 years old, married, 2 children in college
Equivalent of a U.S. baccalaureate degree in humanities
Skilled in writing and designing software user guides, online Help, Web content, training guides, installation guides, and white papers
Uses FrameMaker, Acrobat, Photoshop, Dreamweaver, InDesign, and Fireworks, and Microsoft Office Professional
Aware of STC but is not a member; visits tekom.org occasionally
"I have to find a way to keep my job, provide more value to the company, and still do what I love doing." 
Consuela Roehl has been a technical communication practitioner for more than 20 years with the same software development company in Western Europe. If asked to say in English what her job is, she says, "Technical writer."
Over the years and especially after content development software tools were provided to her, her job responsibilities expanded from providing end-user documentation of one type (paper output) and for one product line to multiple types (paper and Help files) for multiple product lines.
Throughout her career, Consuela became progressively more proficient at development and delivery of end-user documentation. Her compensation increases reflected this.
However, since the turn of the century, the IT business atmosphere has changed significantly in response to global marketplaces and labor competition fostered by the expansion of the European Union and outsourcing made viable by the Internet.
To remain competitive, Consuela's company has become more date driven than ever, to the extent that quality has devolved from an essential to a nice-to-have. Further, cost-cutting measures have caused management to start outsourcing development and delivery of end-user deliverables, including documentation.
Consuela knows that ultimately, if the end-user deliverables suffer in terms of quality, eventually the corresponding products will suffer as well, in terms of consumer confidence and respect. She also knows that her opportunities to maintain the level of income she had enjoyed are at risk; in fact, her job itself could be a candidate for elimination as a cost-cutting measure.
Key Attributes
Willing to adapt to change but not an early adopter
Quick study in technical aspects of the software she documents; respected by SMEs
Concerned that her skillset is rapidly becoming outdated and dispensable
Good comprehension of written English but not fluent in speaking and listening
Tasks
Interviews SMEs, customer support technicians
Team's graphic design leader: creates templates, nav elements, and icons
Constantly represents end-user perspective to colleagues, SMEs, management
Key role in company's ISO-standards monitoring team
Informational Needs/Goals
Needs to investigate single sourcing methods and tools
Needs to figure out how single sourcing fits with content management
Needs to learn about new specialization options for technical communicators such as information architect
Scenario of Use: Consuela Roehl
Consuela goes to tekom.org, her professional society; there she finds a link to the STC's Technical Communication Knowledge Portal.
Browsing around the TCKP, she discovers a heading called Professional Development.
She follows some links to several places within the TCKP:

"About STC", which leads her to a larger view of the profession, such as definitions, job descriptions, roles, and responsibilities, etc.

She is especially drawn to the Career Paths link, where she sees information about developing her skills and increasing her marketability.

She finds a number of resources on life cycle methodology, etc.
She decides to investigate attending the next STC conference.